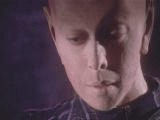 Welcome to the Artwork Gallery. The following are collections of hand drawn pictures by people whom I called Artist in their own right. They have used their talents to express their admiration for Gene Roddenbbery's Earth: Final Conflict and its cast who played the charcters.
Our main Artist is La'khar. She has created wonderful drawings of our beloved characters. However, we are open to anyone who share the same gift. Just give me an

. I will get in touch with you.

and are copyright 2001, Tribune Entertainment Co.
However, some of the photos are taken by
Anna
with the use of Video Cutter Software and
Stella Gorman
. All rights reserved.
All drawings were created by
La'khar
. Copyright 2001. All rights reserved.
Text, graphics & background were designed by the Unification Movement © 2001, All rights reserved.
DO NOT USE ANY OF IMAGES WITHOUT PERMISSION
For any suggestions, comments, complaints, or request please contact
Mi'raa
.